Dee Dee McNeil was kind enough to contact me to do an interview for the Mission Viejo Patch. The Saddleback Jazz Faculty had an upcoming concert (Aug 29) and the intention was that this interview would help promote it. Click here to read the published interview at the Patch.
Here's the unedited interview, which is a bit longer.
Mission Viejo Patch: In 1996 you were selected to be an international jazz ambassador by the United States Information Agency and you toured Asia and the Middle East as part of a duo. Who was the other part of that duo? What countries did you visit? How were you received in those international appearances? How did those performances impact you?
Jamie Rosenn: In 1996, Art Hirahara (a great pianist now living in NY who I went to CalArts with) and I were chosen from a nationwide pool to be part of the Jazz Ambassador program through the United States Information
Agency. We visited Oman, Yemen, Saudi Arabia, and Kuwait in the Middle East and Pakistan, Sri Lanka and Nepal in Southern Asia. Our concerts were attended by a widely varied audience of ambassadors, ex-patriots, students, local music fans, local musicians, etc. For the most part we were received very well. Even in Kuwait, where there was a protest around our appearance on the grounds that American music would corrupt their Islamic values, it turned out to be great advertising and the concert was a huge success. Many of the local music fans were unfamiliar with jazz but very polite and interested. Often we would jam with local musicians, which was always fascinating. Trying to find common ground in each others music was challenging but rewarding. The experience was tremendously eye opening for me. It demonstrated how music can be used to unite cultures that are very different.
Patch:  I know you recorded a cd as part of an organ trio.  What advice can you give interested guitar players about playing as part of an organ ensemble? What's the meaning of the title of this Organ trio CD, "Points
Subtracted"?
Rosenn: I've been playing with the fantastic organ and piano player Joe Bagg since the late 90′s. We have a trio with the drummer Mark Ferber called Option 3 and recorded a CD a few years ago called "Points Subtracted" (http://www.cdbaby.com/cd/option3) referring to a hypothetical point system that related to staying in the good graces of our loved ones. Organ and guitar have similar sonorities and blend together very nicely. Generally the organ plays the role that bass and piano would play normally (playing bass-lines and accompanying the soloist). When the organ solos the guitarist accompanies the organ. So it's a very interactive experience and my advice to guitarists would be the same as in any other instrumentation; use your ears!
Patch: I read that you originally came from the East Coast to California. What do you see as the difference  between East Coast Jazz and West Coast Jazz, if any?
Rosenn: Any style of playing that is found on the East Coast can be found on the West Coast in varying degrees. Having said that though, I have found Boston and New York to be more open to experimentation and individuality.
Patch:  Are you the first in your family to pursue music as a career or are other members of your family musically inclined?
Rosenn: My father is a psychiatrist and my mother is a psychologist and neither were musically inclined. However they were very supportive of me musically and never discouraged me from pursuing it as a career. My younger sister is involved in painting and art education and is a talented singer and my younger brother is a documentary director-editor/ blues-funk guitarist (www.gaberosenn.com).
Patch: How did you get interested in performing jazz?
Rosenn: I started playing guitar at about age 12 and got a subscription to Guitar Player Magazine. At the time the magazine covered very diverse genres of music and I soaked it up and investigated as much music as I could. I eventually gravitated towards jazz and when I was about 15 started playing in an ensemble at a local musical school in Weston, MA (much like the ensembles I teach at Saddleback now). After experiencing first hand how fun it was I was hooked!
Patch: What inspires you to compose music?  Have other artists recorded
your music?
Rosenn: My compositional process is widely varied. Sometimes I start with a title and see what musical images it conjures. Other times I start with a melodic or harmonic fragment and go from there. Sometimes I think about the players or instrumentation of a group I'm playing will inspire me to compose. Generally, the music I write is performed in groups that I lead or co-lead but Alan Ferber arranged and recorded by tune "Yore" on his album "Playground"(http://www.cdbaby.com/cd/alanferberseptet).
Patch: I like the nice open sound that you have on the newest Joe Less Shoe album with only you, saxophone and drums.  Why no bass player?
Rosenn: Thank you! "Outsole" is our second album (http://www.cdbaby.com/Artist/JoelessShoe) and we have a lot of fun in the bass-less environment. We don't use a bassist in JoE-LeSs shOe because it makes us think and play differently and challenges us to listen and interact in a more unorthodox way. We all love playing with bass players but in this particular group, as my teacher Jimmy Giuffre use to say, "less is more"!
Patch: What are the rewards and/or drawbacks of teaching?
Rosenn: Teaching has changed my lifestyle so that I can pick and choose the gigs that are more rewarding to me musically than before I taught. It's also great to interact with students who are excited about learning music and exchange ideas with them. Having to explain what has become automatic to me often provides different perspectives that revitalizes my practicing. I can benefit from it as much as them. The drawbacks are that it can tire me out. I teach at Saddleback, Cypress College, Musician's Institute and Los Angeles Music Academy, so it can
get pretty busy.
Patch: Tell me about the title "joE leSs shOe".  What's behind that title and those Caps?
Rosenn: We decided on our name because Jason Harnell, Matt Otto and myself all had separate bands with Joe Bagg so this band was "Joe-less". The caps just naturally evolved over time and somewhere along the way stabilized.
Patch: What's in store for you in the future and what projects are you currently working on?
Rosenn: My main projects are with Option 3, JoE-LeSs shOe and a third group called Sigmund Fudge with Joe Bagg on electric piano, Ryan McGillicuddy on bass and Jason Harnell on drums. Sigmund Fudge is due to record very soon. People can keep track of my gigs, CD's and projects at www.jamierosenn.com.
Patch:  Any words from the wise for young musicians?
Rosenn: My advice would be to keep and open mind and listen to a lot of music. Pay attention to what really impresses you and see if you can figure out why. Also spend some time imagining what you would sound like if you could play at the level you would like to eventually get to. What does it sound like? Keep whittling away, defining that sound in your head and you'll have a clearer picture of what you need to do to achieve it.
---
In 1997, a few years after I graduated from CalArt's, my friend Koki (who was a jazz drummer that I went to school with) asked me to start doing reviews for a magazine he was working for called Bird Jazz Magazine. It was owned by a Japanese business man who loved jazz and had a dream to start a magazine. It lasted about a year and was a crazy experience for me. I didn't have any experience writing reviews but Koki knew I had a bunch of CD's and my English was better than everyone else's in the office. I eventually became the editor and the magazine was getting national distribution. I loved getting free CD's (I almost did a cartwheel when a promo version of the Complete Miles Davis 60′s Quintet box set came in the mail) but the politics involved with reviewing and editing got to be a drag. I stayed on for about five editions and then went back to being a musician. One of my favorite fun facts from that job was that my pen name I used when I reviewed albums I hated was Richard Muncher.
One series I enjoyed writing was "Behind the Standard" which traced the history of a standard and detailed a number of interesting versions. My writing may have been a bit dense at times (if I were to do it again I would cut way back on the adjectives) but I usually got good feedback from musicians who read it. Looking back on these articles, they really reflect my taste more than a comprehensive, historical approach. Here's the first in the series from the February issue in 1998. Hope you enjoy it.
-jamie
~~~~~~~~~~~~~~~~~~~~~~~~~~~~~~~~~~~~~~~~~~~~~~~~~~~~~~~~~~~~~~~~~~~~~~
11/6/97
Behind the Standard
All the Things You Are
by Jamie Rosenn
When Jerome Kern wrote his ballad, "All the Things You Are" in 1939 for what was to be his last Broadway musical, "Very Warm for May", he had no idea it would become a staple in the modern jazz repertoire. In fact he thought that the variety of key changes in the refrain and the melody's somewhat unorthodox intervallic structure made the song "too hard for the public" to grasp. Apparently, so did Oscar Hammerstein II, the song's lyricist, who tried to pull the song from the musical. Ultimately, the musical bombed but the song became one of Kern's greatest hits, staying on the hit parade for  weeks.
Dance versions of the tune started surfacing in the early forties by Tommy Dorsey and Guy Lombardo, but it wasn't until around 1945 when the tune became a vehicle for improvisation. Musicians such as Charlie Parker and Dizzy Gillespie would call the tune at jam sessions, and found that the song's harmonic complexities would weed out the musicians who were from the swing era and were used to more static chord progressions.
Since then, "All the Things You Are" has become a favorite among jazz standards. The success of the tune with jazz players lies in its harmonic structure. The shifting tonal centers are varied enough so that the musician is challenged yet they are not so difficult that the improviser is burdened. The tune's chord changes have not only inspired countless improvisations but also many new melodies have been composed over it's changes, thus producing new tunes.
Here are some of the more colorful versions of the songs history:
1947, The Charlie Parker Quintet, "Bird of Paradise"(take C) from The Complete Dial Sessions, Dial
Using the "Bird & Diz" introduction as a starting point, Parker discards the written melody and takes a highly inventive chorus before passing the ball to a young Miles Davis. After Miles takes a half chorus, Pianist Duke Jordan improvises on the bridge laying heavily of the #5 of the Gmaj7 which was a somewhat uncommon sound for the day. Miles takes the last A section out while Bird plays lines behind him.
1953, The Quintet , "All the Things You Are" from Jazz at Massey Hall, Debut Records
This essential recording features the all-star line up of Charlie "Chan" AKA Charlie Parker on his white plastic alto , Dizzy Gillespie, Bud Powell, Charles Mingus and Max Roach. Taken at a relaxed tempo, this version contains some classic quotes by Bird and Diz, a nice Bud Powell solo and an overdubbed Mingus solo (apparently the bass was inaudible on the original tape) on top of some backround horn figures.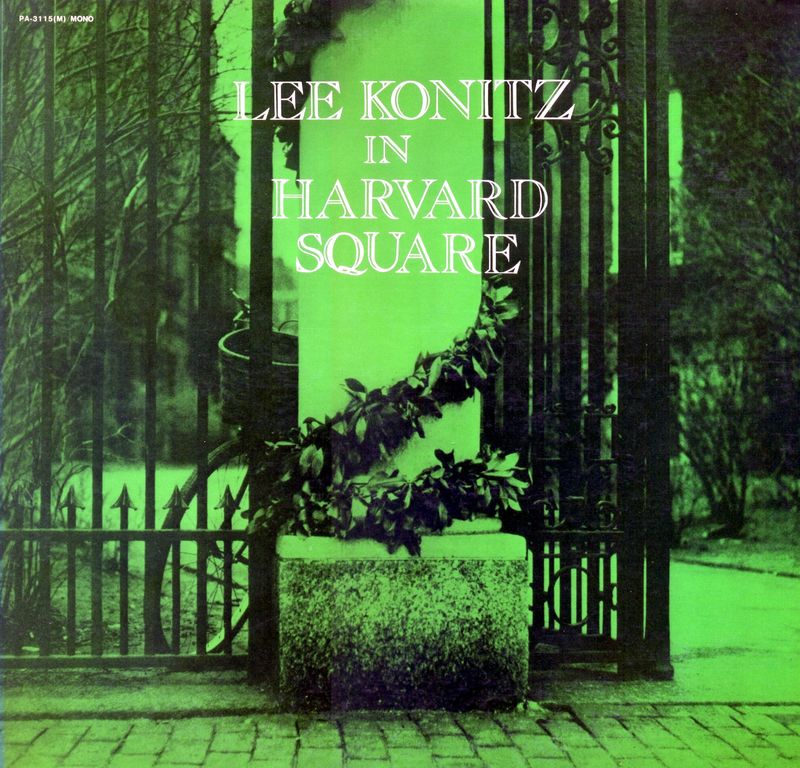 1954, Lee Konitz, "Ablution" from Lee Konitz in Harvard Square, Black Lion
If Kern thought the odd intervallic pattern of the original melody doomed it from public acceptance, I'm sure he would have thought that this one didn't stand a chance. Although credited here as Konitz's tune it has also been credited as pianist Lennie Tristano's. Taken at a brisk pace, this tune features wide intervals with a jagged, asymmetrical phrasing and is one of the many examples of how Tristano's pedagogy could be applied to standards. Also check out Tristano's 1955 version of "All the Things…" with Konitz on "The New Tristano", Atlantic.
1955, The Jazz Messengers , "Prince Albert",  from At the Cafe Bohemia volume 1, Blue Note
Kenny Dorham's classic hard bop head on "All the Things…" changes with the Bird & Diz introduction.  It features solos by Dorham and Hank Mobley and plenty of triplets and press rolls from Art Blakey.
1957, Gerry Mulligan and Chet Baker, "All the Things You Are" from Reunion, Pacific Jazz
Counterpoint abounds in this reunited, piano-less quartet fronted by a very Pres influenced Mulligan. For another piano-less version, listen to Mulligan and Paul Desmond on the 1962 recording, "Two of a Mind" on Bluebird.
1960, Charles Mingus, "All the Things You Could Be By Now If Sigmund Freud's Wife was Your Mother" from Charles Mingus Presents Charles Mingus, Candid
A truly schizophrenic version of Mingus's re-composition that starts out with Mingus dedicating the tune to "all mothers" in front of an imaginary audience.  The groups dynamic interaction, Eric Dolphy's expressive playing and Mingus' rubato sections and blazing triple meter sections were pushing the boundaries of jazz ensemble playing at a pivotal time in jazz history.
1963, Sonny Rollins & Co. "All the Things You Are" from Sonny Meets Hawk!", Bluebird
A pleasingly strange rendition of Kern's classic. Coleman Hawkins states the melody while Rollins plays strikingly dissonant lines in between his phrases. Hawkins' vibrato gives away what era he from but his melodic ideas sound as fresh as ever. Paul Bley's piano solo is a very daring foray into polytonality while Rollins' solo utilizes short, choppy phrases and jabs that are often reach outside the realm of tonality. Also recommended is Rollin's version on the landmark 1957 Village Vanguard live recordings on Blue Note.
1974, Bill Evans, "Are You All the Things" from Intuition, Fantasy
An up tempo duo version with Evans playing electric piano and Eddie Gomez on bass captures both in a rhythmically playful mood. For more of Evans' take on this tune, check out his 1963 solo version and his 1963 live trio version, both available on the Complete Riverside Recordings.
1985, Keith Jarrett, "All the Things You Are" from Standards, vol.1, ECM
Jarrett's interactive approach to the piano trio along with his dynamic touch, lyrical and inventive melodic sense make this a superb rendering of the tune . Also listen to his inspiring solo piano introduction on the 1990 "Tribute" version also on ECM.
1988, Dave Liebman, "All the Things That…" from Trio + One, Owl
Liebman's post-Coltrane flavored head on the classic changes plus a few tritone subs here and there. Dave Holland and Jack Dejohnette provide sensitive and always interesting accompaniment while Liebman's soprano solo makes use of space and the occasional growling utterance. Holland can also be heard playing "All the Things you Are" on Pat Metheny's breakneck 1989 version on "Question and Answer" on Geffen.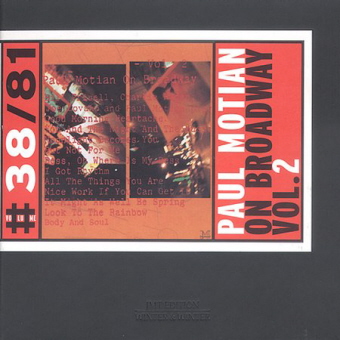 1990, Paul Motian, "All the Things You Are" from Paul Motian on Broadway vol. 2, JMT
An inspired reading from three true originals. Bill Frisell's notes sometime sound as if they're melting during his solo. Charlie Haden takes a beautifully poised solo where he develops each motive out of the previous one. Paul Motian sounds like he's joyfully inventing at his set the whole time.
---